40 Japanese foods we can't live without
(CNN) —
Japan is often called a "Galapagos" when it comes to technology, as the country's cultural isolation tends to produce innovations found nowhere else in the world.
The same can be said about food.
Japan is a culinary wonderland thanks to an incomparable uniqueness, a national obsession with cuisine and an almost religious embrace of freshness and productive perfection.
The result is the following 40 edible treasures that we can never get enough of:


1. Gindara saikyo-yaki
Lovingly slow-grilled over hot coals, the perfect gindara saikyo-yaki is flaky, moist, suggestively sweet and irresistibly savory at the same time.
Black cod is in itself a thing of beauty, but marinating it in mellow white miso brings out a buttery richness that's hard to describe -- and even harder to stop eating.
The Japanese originally developed this technique in order to preserve fish before the invention of refrigeration. Those days are long gone, but our love for saikyo-yaki endures.
We especially love the gindara saikyo-yaki at Ginka (Azabu Juban 2-19-2, Minato-ku; +81 (0)3 5439 6938). It's a hole-in-the-wall shop selling himono dried fish with a small dining area hidden at the back.



2. Horsemeat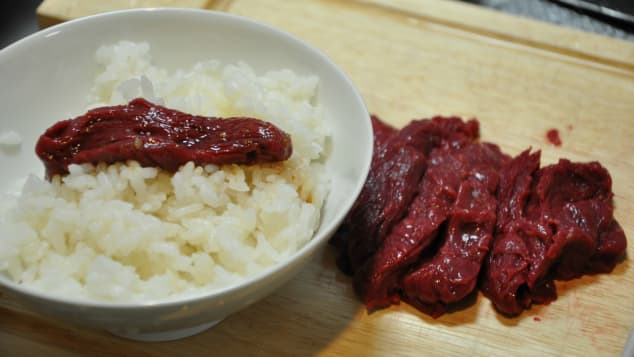 Courtesy TAKA@P.P.R.S/flickr,CreativeCommons
We know what you're thinking. But, when properly prepared, horsemeat is tender, mildly sweet and not at all gamey. The secret? Dry aging, which concentrates the flavor and gives the meat a pleasing springiness.
The Japanese politely refer to horsemeat as sakuraniku, or cherry blossom meat, because of its bright pink color. Its most popular incarnation is basashi, paper-thin slices of raw horsemeat dipped in soy sauce and grated ginger, frequently served at izakayas.
Minoya (Morishita 2-19-9, Koto-ku; 03 3631 8298), one of Tokyo's oldest shitamachi horsemeat restaurants, specializes in sakuranabe, a savory miso-based hot-pot dish of horsemeat simmered together with naganegi Japanese leeks and clear shirataki noodles.
3. Warabi mochi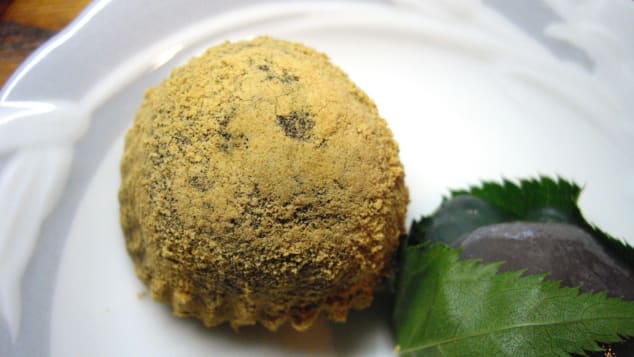 Courtesy yumi kimura/flickr,CreativeCommons
Wiggly, jiggly, sweet and cool to the touch, warabi mochi is a lot like Jell-o, except much, much better. Technically, "mochi" is a bit of a misnomer: Warabi mochi is made not from rice, but bracken fern starch. The result is custardy, translucent, and delicious rolled in toasty kinako soybean flour.
Look no further than your local grocery store for warabi-mochi, especially in summertime. The treat can also be found in depachika or wagashi Japanese confectionary shops such as Kazuya.
Located in Tokyo's poshest district, Parla Ginza is not your everyday crepe stand. Video by
Black Buddha
4. Umi-budo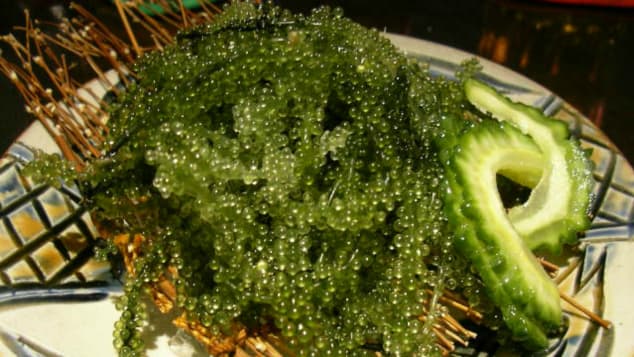 Courtesy hajime nakano/flickr,CreativeCommons
Shimmering like tiny jewels in shades of green that range from pale jade to deep moss, umi-budo are a delight to behold. These miniature "sea grapes" are not grapes at all, but clusters of an extraordinary sea vegetable found in Okinawa.
When you bite into them, the turgid little capsules pop in your mouth, offering a satisfying crunch before releasing their briny goodness across your palate.
At Okinawan restaurants like Dachibin (Koenji Kita 3-2-13, Suginami-ku; +81 (03) 3337 1352), umi-budo come with a lively ponzu dipping sauce to provide a balance of acidity and sweetness.
5. Sushi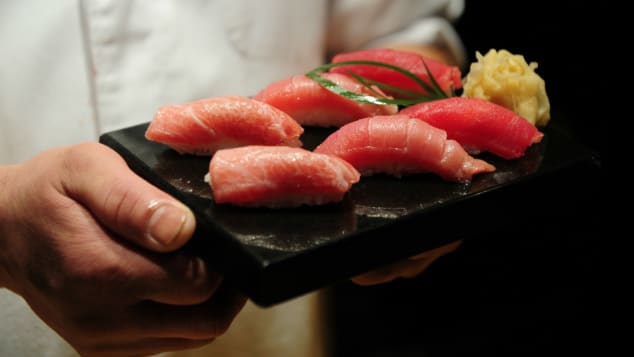 EMMANUEL DUNAND/AFP/Getty Images
Without a doubt, sushi is one of Japan's greatest gastronomical gifts to the world. Almost poetic in its simplicity, good sushi relies on two things: the freshness of the ingredients and the knife skills of the chef.
Whether you like your raw fish draped over bite-sized balls of vinegared rice, rolled up in toasted nori seaweed or pressed into fat rectangular logs, delicious sushi can be found in every price range.
The sushi at Sushisho Masa (Seven Nishiazabu B1, Nishi-Azabu 4-1-15, Minato-ku; +81 (0)3 3499 9178) in Roppongi is nothing short of piscine perfection. Each exquisite piece is served with flair, and specific instructions on how to eat it.
6. Chirashi-don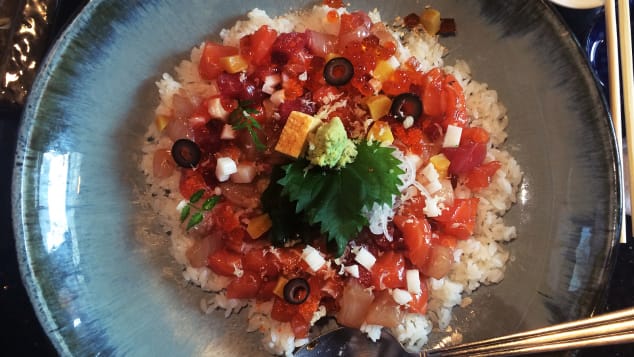 Maggie Hiufu Wong/CNN
Chirashi-don combines the simple elegance of fresh raw fish with the laid-back informality of donburi, the quotidian rice bowl. The specialty at Uogashi Senryo (Tsukiji 4-10-14, Chuo-ku; +81 (0)3 5565 5739) in Tsukiji is kaisen hitsumabushi, a kind of chirashi donburi tossed with various morsels of raw fish and topped with creamy uni sea urchin and ruby red ikura salmon roe.
Eating it involves a procedure that borders on ritual. The fish and rice are first mixed with soy sauce and wasabi, and later with pickled vegetables. When most of the mixture has been eaten, dashi broth is poured over the remaining third, which is consumed as a soup.
7. Tonkatsu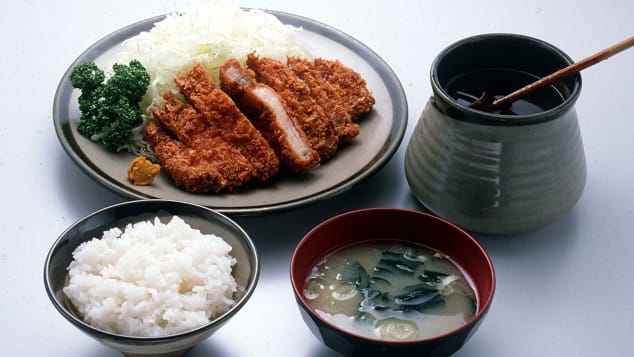 Courtesy Japan National Tourism Organization (JNTO)
Breaded, deep-fried until crisp and golden brown and then drizzled with a sweet and piquant sauce, meat doesn't get any better than tonkatsu.
At Tonki (Shimo Meguro 1-1-2, Meguro- ku; +81 (0)3 3491 9928), they don't take reservations. The lines are long, but the succulent hire tonkatsu, served with a mound of shredded cabbage to assuage your guilt, is well worth the wait. Maisen (Jingumae 4-8-5, Shibuya-ku; +81 (0)3 3470 0071) is also an unbeatable stand-by.
8. Wagyu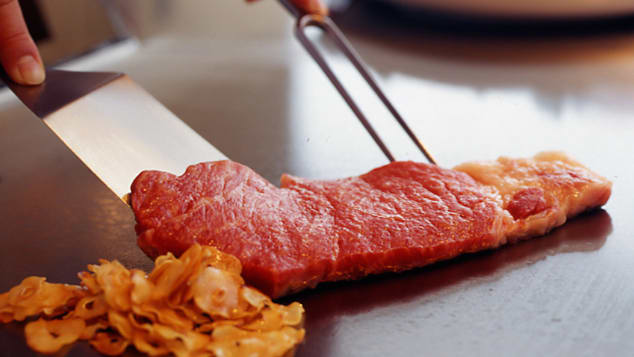 Courtesy Japan National Tourism Organization (JNTO)
Nothing quite compares to that first bite of lavishly marbled wagyu. It's like butter, meltingly tender and decadent. Once you've had wagyu, other steaks seem downright stingy in their leanness.
At first, those fine white veins of fat may seem shocking, but compared to regular beef, wagyu actually contains higher levels of Omega-3 and Omega-6 fatty acids, which help reduce the risk of heart disease. At least that's what we keep telling ourselves.
Blacows (Ebisu Nishi 2-11-9, Shibuya-ku; +81 (0)3 3477 2914) offers a taste of luxury in their juicy 100 percent wagyu burgers.
9. Tempura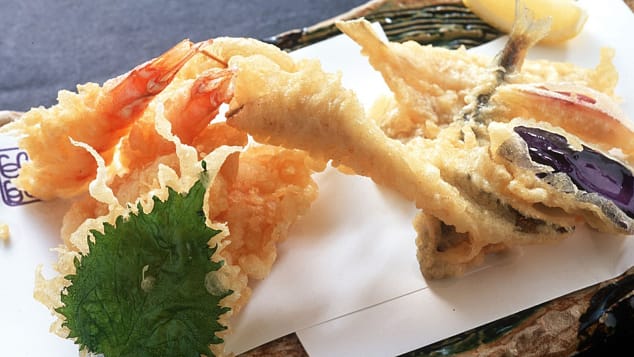 ©JNTO
Wooing the world through the international language of deep-fried deliciousness, tempura is one of Japan's most popular culinary exports. Ironically, this iconic Japanese dish finds its roots abroad -- in Portugal.
When Portuguese missionaries and traders arrived in Nagasaki in the mid-16th century, they brought with them a taste for rich foods and the technique of deep-frying. Christianity may have been slow to catch on in Japan, but tempura was an instant hit.
At Kondo (Sakaguchi Bldg. 9F, Ginza 5-5-13, Chuo-ku; +81 (0)3 5568 0923), deep frying is almost an art form: greaseless morsels of tender asparagus, delicately crisp kisu fish, and plump scallops still pink in the center.
10. Ramen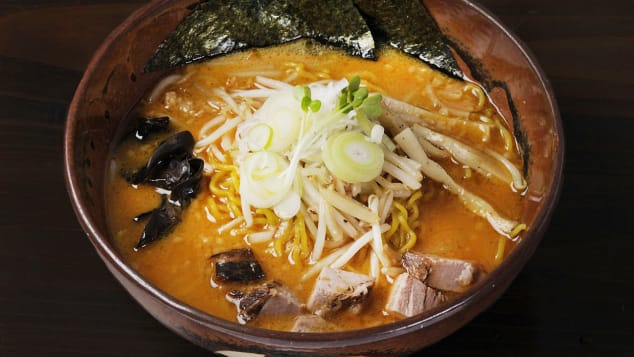 Courtesy Japan National Tourism Organization (JNTO)
More books, blogs and movies have been dedicated to ramen than any other noodle dish in Asia. No wonder: Ramen's intoxicating combination of fat and salt sends powerful messages directly to the endorphin-producing parts of the brain.
It's very, very difficult to choose just one ramen shop, but Enji (Kichijoji Minami-cho 1-1-1, Musashino-shi; +81 (0)422 44 5303) is one of our newest favorites for tsukemen, ramen noodles dipped in a thickly concentrated fish-and-pork-bone-based broth.
11. Satsuma-age
Courtesy hirotomo t/flickr,CreativeCommons
Satsuma-age proves that, like most things edible, minced fish paste benefits from a little time in the deep fryer. Originally from Kagoshima in Kyushu, these golf-ball-sized goodies can be made with a variety of vegetables -- slivers of gobo burdock root, chopped shiitake mushrooms and sliced onions.
Satsuma-age can be found at specialty stands and izakayas all over the city, but Bar Ippo in Ebisu (Kamasuya 2F, Ebisu 1-22-10, Shibuya-ku; 03 3445 8418) puts a unique twist on the dish. Their puffed fuwa-fuwa-age are airy pillows of fried fish cake flecked with black sesame seeds that go great with sake.
12. Te-uchi soba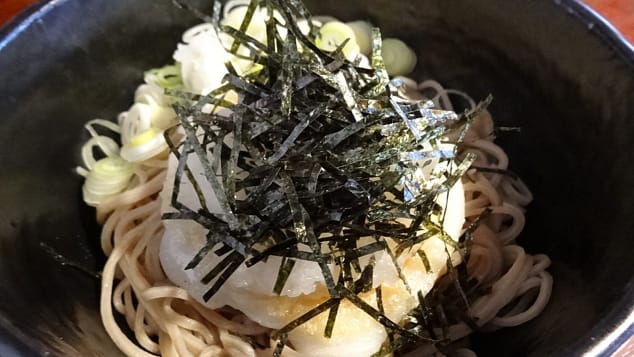 Courtesy Daisuke Yatsui/Japan National Tourism Organization (JNTO)
Most of the buckwheat noodles on the market are mass-produced, inoffensive yet forgettable. Once you've tasted te-uchi hand-rolled soba, though, it's easy to understand why soba chefs take great pride in making the perfect noodles. Served cold as zaru-soba, or in a hot bath of dashi broth, their mildly nutty flavor and firm-to-the-bite texture are addictive.
Matsugen (Sendaizaka Oak Hills 1F, Azabu Juban 3-11-12, Minato-ku; +81 (0)3 3457 5690) offers expertly prepared, traditional te-uchi soba in a stylish modern setting. The bukkake soba is garnished with a dozen aromatic herbs and served with an unusual sesame dipping sauce.
13. Sanuki udon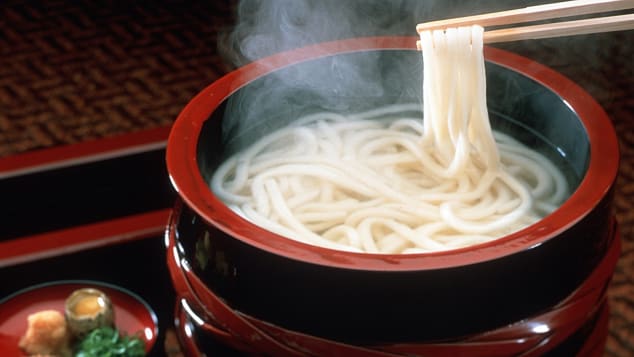 Courtesy Japan National Tourism Organization (JNTO)
Like so many revolutions, the rise of sanuki udon began with a book. Sanuki udon, Shikoku's special brand of thick wheat noodles, had long been revered by udon connoisseurs in Western Japan, but the release of "Osorubeki Sanuki Udon" (The Astounding Sanuki Udon) sparked a craze that spread like wildfire across the country. What makes Sanuki udon special is their chewy and silky texture. Slick, slurpable, and immensely satisfying, sanuki udon noodles offer both the firm bite of al dente pasta and the pliant density of mochi rice cakes.
At Tokyo Mentsudan (DaikanPlaza Business Kiyota Bldg. 1F, Nishi-shinjuku 7-9-15, Shinjuku-ku; +81 (0)3 5389 1077), you can watch the noodle makers at work as they roll, cut and cook the udon in huge vats of boiling water.
14. Japanese curry rice
Apples and honey in curry? Indian chefs would be quick to declare heresy. However, Japanese curry diverged from its roots on the subcontinent long ago and has evolved into an iconic dish in its own right. It's commonly served atop white rice, or in a kitschy silver turret, with a side of tart and crunchy rakkyo pickles. Beloved by schoolchildren and salarymen alike, its particular blend of sweetness, gentle spice and soothing, viscous mouth-feel has made curry rice one of Japan's most popular dishes.
Manten in Jimbocho (Kanda Jimbocho 1-54, Chiyoda-ku; +81 (0)3 3291 3274) is wildly popular among curry rice junkies.
15. Yaki-imo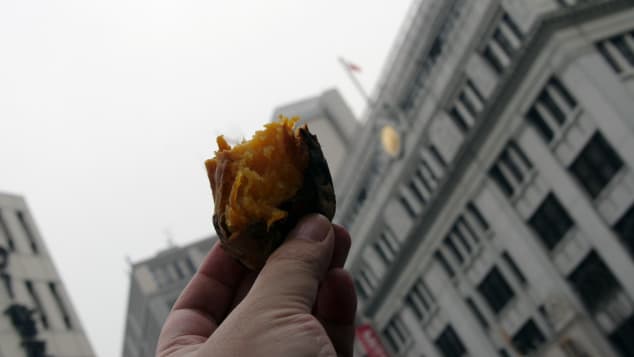 Courtesy toshihiro olmatsu/flickr,CreativeCommons
Come wintertime, Tokyo's streets are filled with the nostalgic, nutty aroma of roasted sweet potatoes, and a plangent call emanating from the yaki-imo trucks can be heard in every neighborhood. Yaki-imo usually disappear around late spring, but the curiously named daigaku-imo (university potatoes) sugar-crusted sweet potato snack can be found all year round. Take a look around your local grocery store, or the basement food courts in department stores like Takashimaya to get your daigaku-imo sweet potato fix.
16. Taimeshi
This classic dish of rice steamed with sea bream and konbu, dusted with sansho Japanese pepper, tastes of home -- which is where you're most likely to find it. Although Omasa-Komasa in Higashi Nakano (Higashi Nakano 4-2-25, Nakano-ku; +81 (0)3 3371 0019) is known for its extensive selection of Juyondai sake, their taimeshi is some of the best we've tasted outside of Mom's kitchen.
17. Takoyaki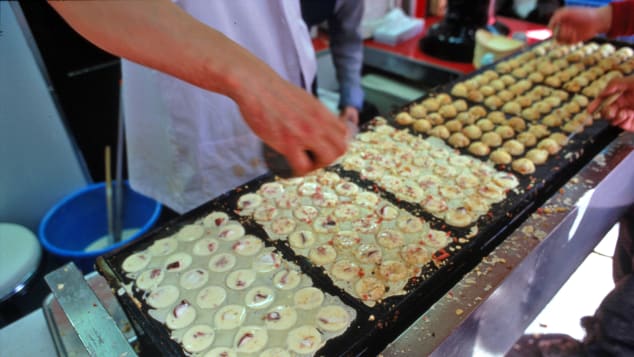 Courtesy Japan National Tourism Organization (JNTO)
The term "octopus balls" doesn't do justice to this delectable snack from Osaka. A crisp exterior surrounding a gooey center of octopus, pickled ginger and scallions, takoyaki carries the heft of a meal in a few ping-pong-sized globes of dough. Brushed with a sweet sauce and sprinkled with nori, they're a favorite at festivals and as a late-afternoon snack.
18. Kabayaki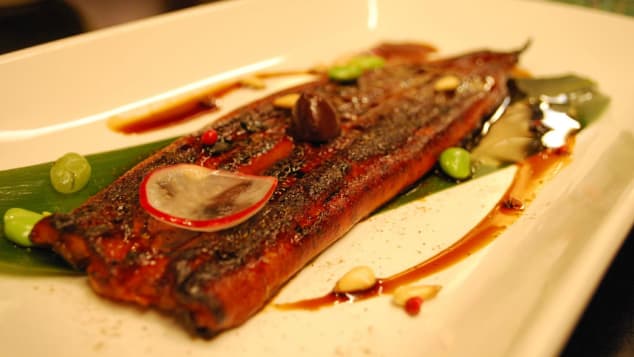 Courtesy alpha/flickr,CreativeCommons
Kabayaki is a skewer of unagi eel that has been filleted, dunked in a thick, sweet soy-based sauce and then grilled. We can't verify the purported stamina-enhancing properties that make it popular in summer, but we love it for its intense, smoky-sweet flavor.
Connoiseurs swear by Obana in Minami-Senju (Minami-Senju 5-33-1, Arakawa-ku; +81 (0)3 3801 4670), one of the oldest unagi shops in the city.
19. Ochazuke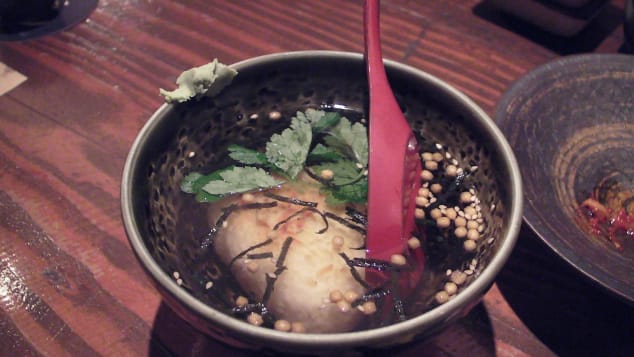 Courtesy yosomono/flickr,CreativeCommons
Chicken soup for the Japanese soul. Ochazuke is about as far from haute cuisine as you can get. It's a bowl of plain white rice and green tea mixed with dashi kelp broth, usually topped with salmon flakes, nori or umeboshi pickled plums, just the thing you crave when you're feeling sick, hungover or down in the dumps.
20. Onigiri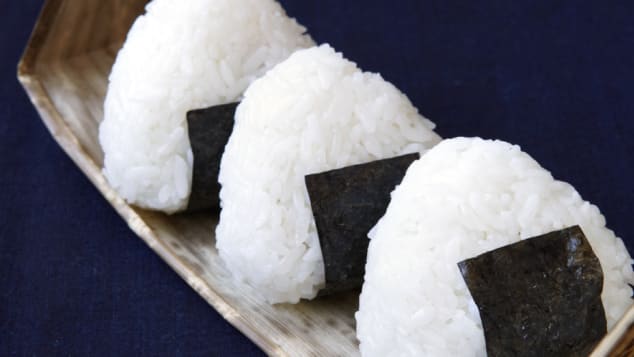 Aya Brackett/CNN
Tasty, filling and cheaper than a cup of coffee at Doutor, these usually triangular rice balls are the ultimate fast food. The fact that they're available at every convenience store means that you're never far from a snack.
Onigiri come stuffed with anything from spicy cod roe and pickled greens, to grilled slices of beef with mayonnaise. In depachika department store basement food courts, you can find them filled with seasonal ingredients such as fresh takenoko bamboo shoots in the spring or matsutake mushrooms in the fall.
Onigiri can be found anywhere and everywhere.
21. Tofu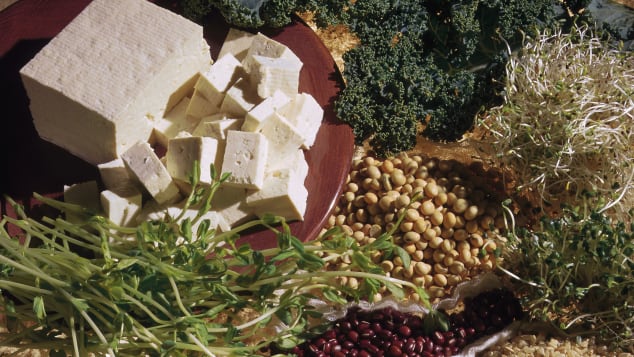 Comstock
We love tofu. Okay, there, we've said it. It's the most versatile vegetable protein out there, delicious deep-fried and splashed with dashi, stir-fried with beef, or served chilled and sprinkled with herbs. Tofu in its various incarnations can be found all over the city in izakayas such as Washoku En (various locations). For an unforgettably elegant (if pricey) tofu experience, head to Tofuya Ukai (Shiba Koen 4-4-13, Minato-ku; +81 (0)3 3436 1028). You'll never look at bean curd in the same way again.
22. Natto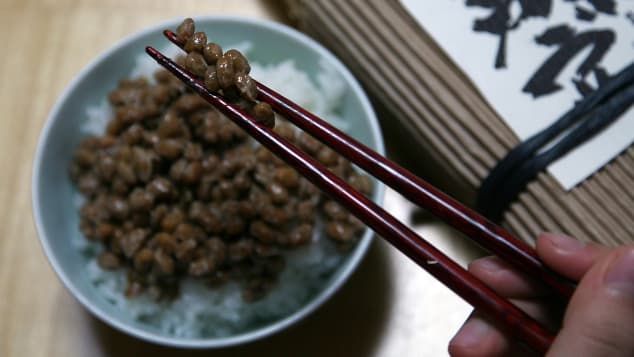 Koichi Kamoshida/Getty Images AsiaPac/Getty Images
Natto is easily the most divisive food in all of Japanese cuisine. Like blue cheese or durian, these fermented soybeans have an aggressively pungent aroma and idiosyncratic flavor that people either love or hate. Detractors complain of its "stinky" smell and "slimy" texture, but fans are addicted to its potent umami-rich goodness. It's delicious tossed with raw tuna and kimchee, or folded into the pork filling for gyoza.
For those still wary of natto, Yamanashi-based natto producer Sendaiya has found a way to sneak it into tasty baked doughnuts.
23. Okonomiyaki/monjayaki.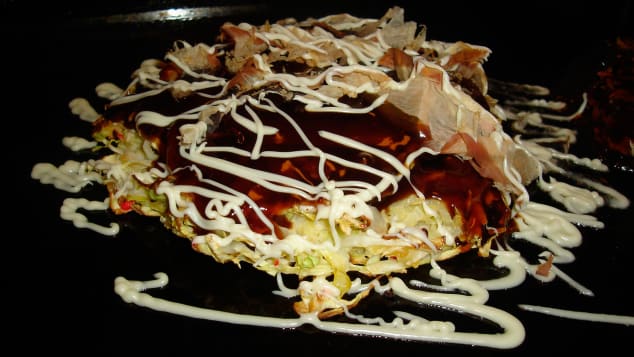 Courtesy David Pursehouse/Creative Commons/Flickr
These fat, savory "pancakes" can be made with any number of ingredients -- thin slices of pork belly, octopus, shrimp and even cheese -- in a variety of combinations. Hence the name okonomiyaki, which loosely translates as, "as you like it." They're often cooked on a hot griddle at your table. At several places, you can make them yourself, but it's probably a job best left to the pros.
Monjayaki is okonomiyaki's gloopy, soupy cousin. The best place to try it is in Tsukishima, where you'll find dozens of restaurants specializing in monjayaki and okonomiyaki.
24. Nabe
Nabe is the embodiment of communal dining in Japan. On chilly winter nights, you can almost feel the love rising from this bubbling pot of goodness. At Yoshiba (Yokodsuna 2-14-5, Sumida-ku; 03 3623 4480), savor your soup like a sumo wrestler with chanko nabe, a calorie-laden hodge-podge of fish, meat and vegetables, finished with thick udon noodles and egg.
25. Miso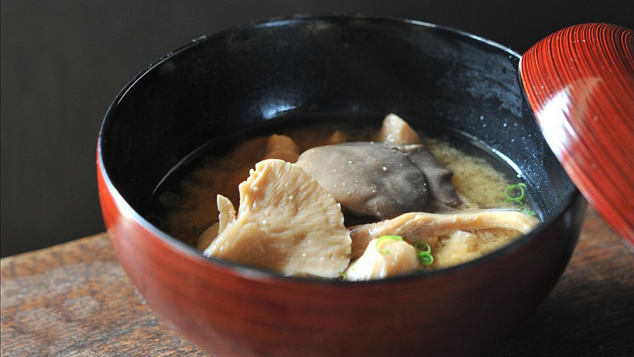 Courtesy Tourism Commission of Hakuba Village
Where would Japanese cuisine be without miso? This salty fermented bean paste forms the base of so many soups, sauces and marinades. Every region in Japan has its own special recipe. Sample them all -- from sweet and smooth Saikyo miso to dark and brooding Hatcho Miso -- at Sano Miso (Kameido 1-35-8, Koto-ku; +81 (0)3 3685 6111). We hear it's the best miso shop in town.
26. Mochi ice cream
Playfully chewy, milky and sweet, mochi ice cream speaks to our childhood fascination with foods that come in edible wrappers. These frozen treats come in a wide range of flavors, but we prefer to stick to the classics: green tea, vanilla and strawberry. Just don't eat too many too fast. The outer shell of sticky-rice does nothing to prevent brain freeze.
Yukimi Daifuku mochi ice cream is available at convenience stores like 7-Eleven. Head to a department store like Isetan for even more varieties.
27. Namero
It may not look like much, but Namero delivers a kaleidoscope of flavor on the palate. It's a fluffy mince of raw aji horse mackerel, shiso, scallions, ginger and a pinch of mellow miso, so tasty that its name essentially means "plate-licking good."
28. Gyoza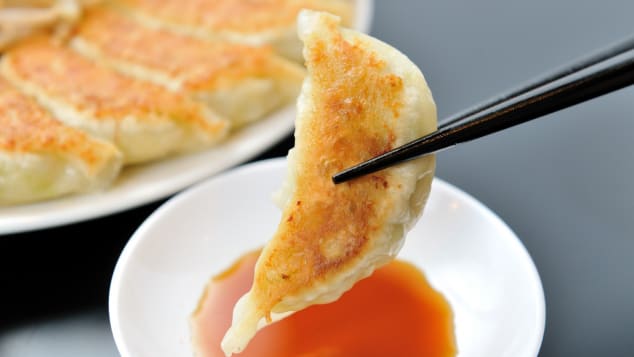 Courtesy Tourism Commission of Hakuba Village
Although technically Chinese, gyoza are now a key part of Tokyo culinary life. Bite-sized and rich, these dumplings normally filled with a mix of pork, cabbage and nira chives, are dipped into a tangy blend of soy sauce and vinegar. Unlike most Japanese foods which come in somewhat skimpy portions to help you know when to stop eating, it's pretty easy to keep ordering round after round of gyoza until you are about to burst.
The gyoza captial of the world is Utsunomiya up in Tochigi, but in Tokyo, the best gyoza experience is Harajuku Gyoza Roh (6-2-4 Jingumae, Shibuya-ku; +81 (0)3 3406 4743) and its sister establishment in Sangenjaya (Taishido 4-4-2, Setagaya-ku; +81 (0)3 5433 2451). Best part about Gyoza Roh is that you can get garlic-free gyoza -- a rarity in the city.
29. Taco rice
This American-Japanese hybrid originated in sunny Okinawa, where the meat, cheese, lettuce and tomato sauce of tacos somehow ended up on a bed of white rice. The result is surprisingly great. Even without the crunch of the taco shell, the flavor blends perfectly with the Japanese rice to create a hearty meal perfect for the summer days.
The dish is quite common at Okinawan joints and trendy cafes, but Quina in Kichijoji (Kichijoji Honcho 1-1-8, Musashino-shi; +81(0)422 21 6607) is a taco rice-only establishment that offers an avocado version as well as monthly crazy hybrids with other Japanese and Asian dishes like kimchi, mochi and okonomiyaki.
30. Naporitan spaghetti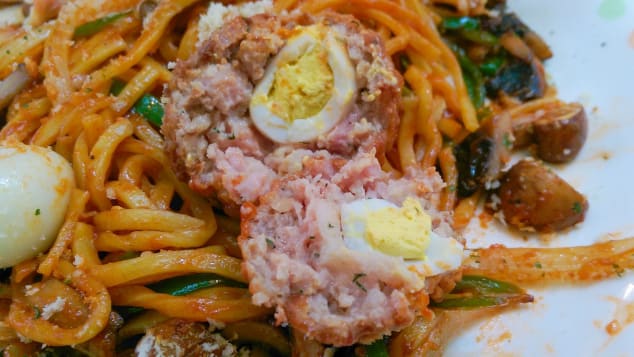 Courtesy sstrieu/flickr, CreativeCommons
The English name should probably be "Neapolitan," but it's best not associating this king of Japanese low rent food culture with anything Italian. Forget delicately brewed tomato sauces: This thing mixes up the pasta with onions, green peppers, ham -- and everyone's favorite condiment, ketchup.
The dish has a long history but became extremely popular in the 1960s as serving it at bars let them stay open longer as "snack restaurants" rather than just watering holes. Sure this thing is pretty disgusting, completely non-authentic and has little to do with the subtleties of Japanese cuisine, but when we are trying to restore some balance to your body after a long night of drinking, nothing looks more attractive. And finding a place that still serves it means you get to hit some very classy establishments.
31. Yakitori
Washed down with an ice-cold beer, these grilled chicken skewers are ideal for outdoor grazing and summertime snacking. Yakitori most often refers to grilled dark meat, but a typical meal also includes other prized bits including lightly seared breast meat smeared with wasabi, livers, hearts, buttocks, gizzards, skin and more. Most places slather the ingredients with a thick syrupy sauce made from soy, rice wine and mirin, but gourmets prefer their meats sprinkled only with salt.
Try grilled segimo (kidneys) with salt at the lively Toriishi (Sangenjaya 2-15-14, Setagaya-ku; +81 (0)3 5430 1002). Indulge in rarer and pricier delicacies like grilled suzume (sparrow), uzura (quail), and the show-stopping chochin (ovary and fallopian tube) at Toriyoshi's Nakameguro branch (Kami-meguro 2-8-6, Meguro-ku; +81 (0)3 3716 7644), or their Ginza location (1F Ginza Corridor Gai, Ginza 7-108, Chuo-ku; +81 (0)3 5537 3222).
32. Oden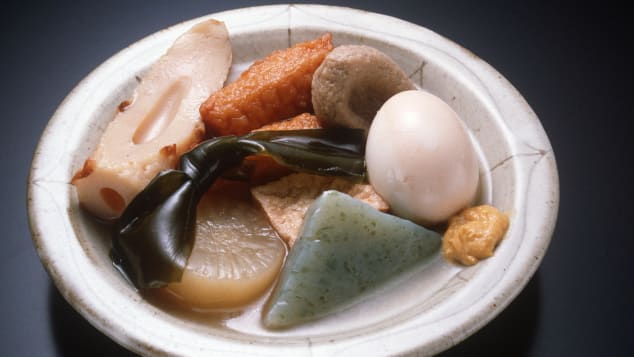 Courtesy Japan National Tourism Organization (JNTO)
One of the best winter comfort foods, oden is a simmering cauldron of gooey, gummy and chewy textures that include various fishcakes, soybean fritters and stuffed dumpling-like foods. You'll also find tender daikon radish chunks, konnyaku ("devil's tongue" root jelly), hard-boiled eggs, beef tendons and even wiener sausages all stewed until they absorb the tasty kelp-based stock. Try it Kansai-style at Odako (Ueno 2-3-1, Taito-ku, tel. +81 (0)3 3836 4906), where the stock is lighter than the Kanto-style native to Tokyo.
33. Rare cheesecake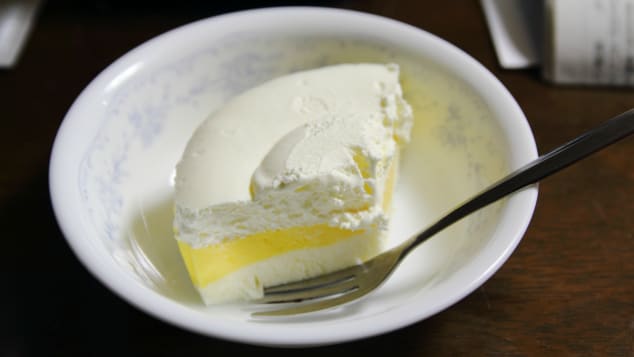 Courtesy t-mizo/flickr,CreativeCommons
As opposed to the baked New York-style version, this Japanese coffee shop staple is made from fresh ("rare") cream or ricotta cheese. More upscale restaurants and dessert cafes serve deconstructed versions that resemble a gloopy English-style trifle or pudding, but you can order classic plain versions in most kissaten in Tokyo.
34. Dojo (loach)
Touted as one of Tokyo's authentic Edo period delicacies dating from the early 19th century, dojo are tiny eels about the size of your pinky finger that are often overlooked by cavalier eel hunters in search of the more succulent and meaty unagi.
Located in the old ramshackle downtown area of Asakusa, Komagata Dojo (Komagata 1-7-12, Taito-ku; +81 (0)3 3842 4001) is one of its oldest purveyors. Opt for the regular dojo nabe, a hotpot of simmered loaches blanketed in finely chopped leek, the yanagigawa style hotpot (stewed with egg and burdock), deep-fried dojo kara-age, or even dojo senbei, a crispy beer snack made by deep frying their bones.
35. Tamago-yaki/dashimaki tamago
Eggs in Japan show up in runny scrambles on top of rice bowls and omu rice plates, and in raw pristine form in chopped sashimi dishes like maguro yukke, a sort of tuna steak tartare. Perhaps the most cherished and versatile egg dish, however, is the simple Japanese omelette made by adding a little dashi broth into the egg mix.
Cold rubbery slices of tamago-yaki show up in Japanese bento lunchboxes and cheap sushi platters in convenience stores across the land, but a freshly-made dashimaki tamago at a first-rate restaurant is a revelation: silken and pillow-like with a deep savory flavor that comes from the delicious stock.
36. Taiyaki
Japan may be known for its beautiful pastries and cakes, but one of its most well-known traditional treats is oddly shaped like a sea breem. Taiyaki is a hot waffle-like pastry stuffed with sweet azuki bean paste, chocolate, cream or sometimes cheese. The shape stuck when it was introduced to the poor populace who couldn't afford the actual fancy-schmancy tai fish 100 years ago.
The taiyaki by Aji-saki in the basement of Ikebukuro's Seibu department store (Minami-Ikebukuro 1-28-1 B1, Toshima-ku; +81 (0)3 3987 7260) commands a line that snakes around corners from morning 'til night, and it gets longer when they bring out the sweet-potato-stuffed taiyaki after 5.p.m.
37. Sekihan
Plain 'ol white sticky rice is such a bore, which is why when it comes time for celebrations red sekihan should be on the table. The sekihan rice is of a special mochi variety, which makes it extra chewy, and it's cooked with azuki beans, which give it that unique red tinge. The sekihan at Toraya, the infamous Japanese confectionary boutique, is made with their extra-rich azuki beans and is sold only by special order October to May. To order, contact Toraya.
38. Tsukemono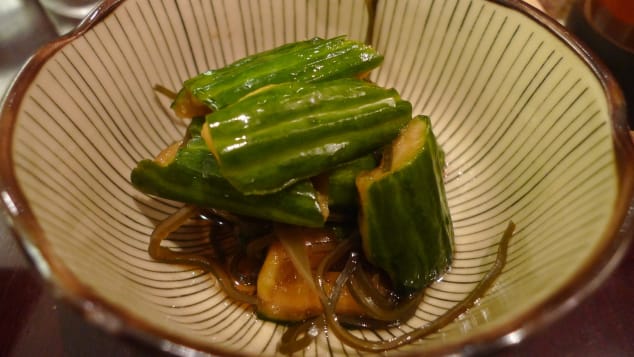 Courtesy arnold gatilao/flickr,CreativeCommons
How can something this simple be so good? Salt-brined tsukemono pickles are one of life's little pleasures. Kyoto-based tsukemono producer Nishiri makes deliciously crunchy pickled daikon and vividly purple-pink shiba-zuke, assorted vegetables spiked with zesty aka-jiso (red shiso) leaves. Nishiri has outlets across Tokyo in department stores such as Takashimaya and Matsuzakaya in Ginza.
39. Karaage
The beer-lover's best friend. And what's not to love about Japanese fried chicken? Good tori karaage is all about crispy skin and juicy dark meat, spiced with a little soy sauce and ginger to give it extra kick. It's a staple in izakayas everywhere, but we think that the Daisen tori-karaage at Wabisuke (Saiko Bldg B1, Nishi-Shinjuku 1-19-2, Shinjuku-ku; +81 (0)3 3342 6680) is some of the best in town.
40. Maccha Latte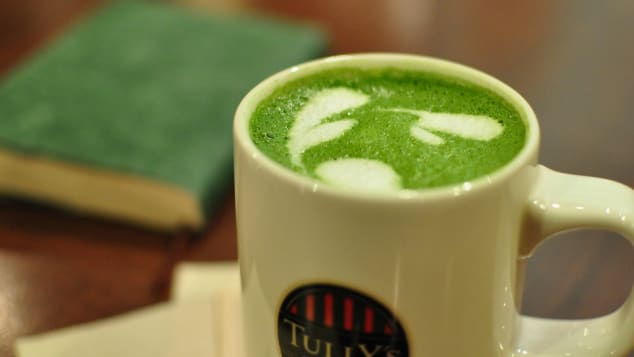 Courtesy @yb_woodstock/flickr,CreativeCommons
A harmonious union of East and West, the maccha latte gives you the best of both worlds -- milk and green tea in one frothy, milky cup. At Nana's Green Tea, you can get top your maccha latte with chocolate, azuki bean paste or a scoop of vanilla ice cream. These sweet drinks are about as girly as they get, but who cares?
Source: CNN 
https://edition.cnn.com/travel/article/japan-foods-must-have/index.html/